premium
MERCATOR gogrip blue
Premium gloves for professionals!
If you are looking for premium gloves perfect for working in a demanding environment where secure grip, precision and protection against viruses, fungi and bacteria are of utmost importance, the MERCATOR gogrip blue gloves are a perfect choice.
Go to the store
Gloves for special purposes
Exceptionally elastic MERCATOR gogrip gloves are two times thicker than standard gloves available on the market. These gloves have a unique 3D diamond texture which makes your grip strong and secure, and the original MERCATOR gogrip structure allows you to operate mobile devices without taking off your gloves.  The structure also prevents sweating of hands during use.
Recommendations
They are especially recommended for food processing, where your hands are exposed to damp, oily and wet environments during work. We subject our gloves to extensive tests to ensure their integrity and your safety – MERCATOR gogrip gloves are classified as personal protective equipment of category III, type B.
Elasticity and high resistance to stretching allow you to reduce the number of used gloves and thus help you protect the environment.
Get PREMIUM class protection for your hands – choose MERCATOR gogrip!
MERCATOR gogrip blue:

Ground-breaking 3D diamond texture

Allow you to operate mobile devices

Two times thicker than standard gloves

High durability and quality of the gloves

Approved for contact with food

Resistance to viruses, bacteria and fungi

High resistance to selected chemicals

Exceptionally elastic gloves

Provide a stable and secure grip even in a difficult work environment

Help reduce the number of used gloves and decrease recycling costs

Flexible and highly resistant to stretching

Original inside – the 3D structure prevents sweating of hands during use

Occupational health and safety in hazardous environments

Protection in greasy and damp work environments

PREMIUM highest quality gloves
Especially recommended for:
The MERCATOR® gogrip blue nitrile gloves ensure a sense of safety and are suitable for applications such as:
processing of meat and fish
processing of milk
processing of fruit and vegetables
beverage production
production of frozen food
bakery and confectionery
Processing of fish — evisceration, cleaning, cutting (including filleting), Clean zone - thermal processing: freezing, drying, cooking, smoking, salting, brine), sale of live fish,
Disinfecting working surfaces — preparation of solutions and disinfection activities, cleaning, activities at tanks, collecting samples for the lab, cleaning machines
Specification:
Product type
personal protective equipment
Protection type
III type B
Shape
universal (ambidextrous)
Household and protective - professional glove length
Suitable for sensitive skin
yes, non-latex gloves
Download:
Standards and certifications:
This product is a product with all certificates, in accordance with the latest regulatory requirements in the field of personal protective equipment.
Therefore, the product also meets the highest quality and product standards for personal protective equipment.
Confirmation of the above provisions and the list of certificates, standards and legal and regulatory provisions relating to the product can be found in the Declaration of Conformity.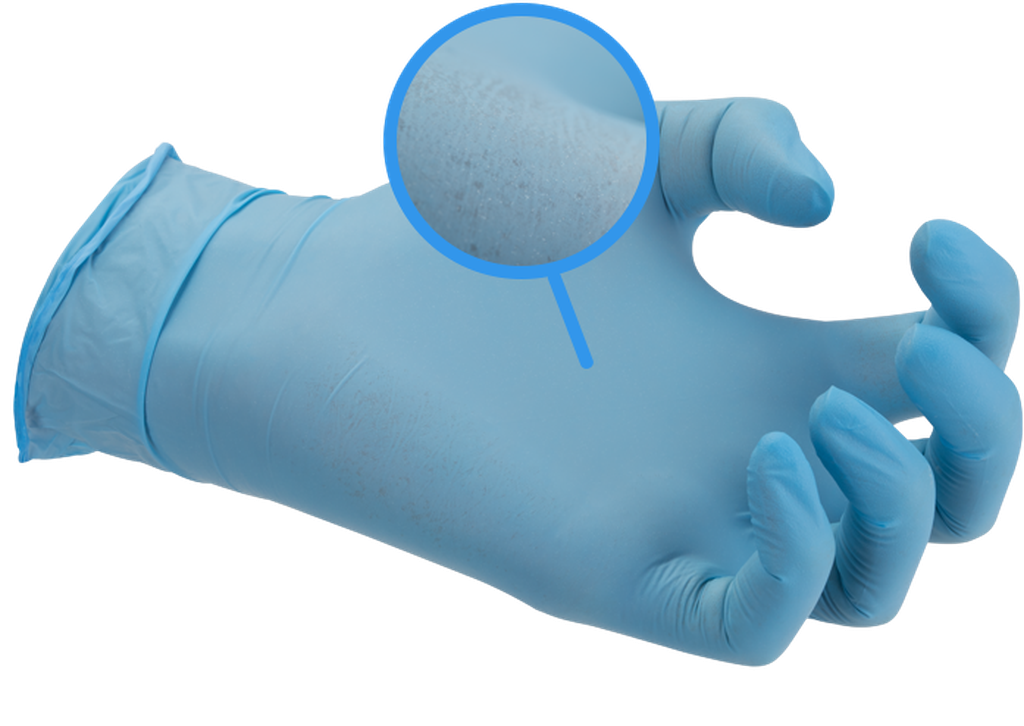 Material characteristics:
NITRILE
Nitrile, also known as acrylonitrile butadiene rubber (NBR), is a material composed of organic chemical compounds. The production process of this raw material was modified so that it can compete with natural rubber. Nitrile gloves are an ideal alternative to gloves made of natural rubber. Nitrile gloves:
• do not contain latex proteins – safe for persons sensitive to latex
• their content of chemical vulcanisation accelerators is limited to a minimum
• have good barrier properties for chemicals
Minimised content of chemical accelerators significantly reduces the risk of type IV allergy.