premium
MERCATOR gogrip black
Premium gloves for professionals!
If you are looking for a premium nitrile glove perfect for working in a demanding environment where secure grip, precision, unlimited movement and protection against viruses, fungi and bacteria are of utmost importance, the MERCATOR nitrile gogrip black glove is a perfect choice.
Go to the store
Gloves for special purposes
Exceptionally elastic MERCATOR gogrip gloves are twice as thick as standard gloves available on the market. These gloves made of robust nitrile have a unique 3D diamond texture which makes your grip strong and secure without limiting your precision. Original MERCATOR gogrip structure allows you to operate mobile devices without taking off your gloves.  Additionally, the revolutionary 3D diamond texture prevents sweating of your heads while using the gloves, increases the comfort of use and minimises the risk of skin damage.
Single glove, multiple applications!
Recommended in particular in the automotive, construction, assembly and industrial sectors – wherever your hand needs protection against dirt and is exposed to contact with chemical substances such as oils or lubricants.
The high quality of these gloves finds its confirmation in their classification into category 3, type B personal protective equipment. Our gloves are carefully tested to ensure your safety and protection against fungi, bacteria and viruses.
 Elasticity and high resistance to stretching allow you to reduce the number of used gloves and thus help you protect the environment.
Give your hands premium class protection – choose MERCATOR gogrip!
MERCATOR gogrip black is the new version of the MERCATOR powergrip black glove | Check –> 
MERCATOR gogrip black:

Easy donning of gloves and a secure grip thanks to a special diamond texture – even in greasy and wet conditions.

Protection against chemicals.

Barrier against bacteria, viruses and fungi!

Allow you to operate touchscreen devices.

2x thicker than a standard nitrile glove!

Elastic and very resistant to stretching.

High durability and quality of the gloves.
Especially recommended for:
Vehicle repair
Working with tools and machinery
Construction and assembly work – automotive, industrial, mechanical and construction industries.
Electrical works, hydraulics, maintenance, locksmiths and woodworking shops, municipal services management, technical and operational section and sanitary section.
Food industry.
Cleaning.
DIY.
Specification:
Product type
personal protective equipment
Protection type
III type B
Shape
universal (ambidextrous)
Household and protective - professional glove length
Suitable for sensitive skin
yes, non-latex gloves
Download:
Standards and certifications:
Compliance with current standard issues: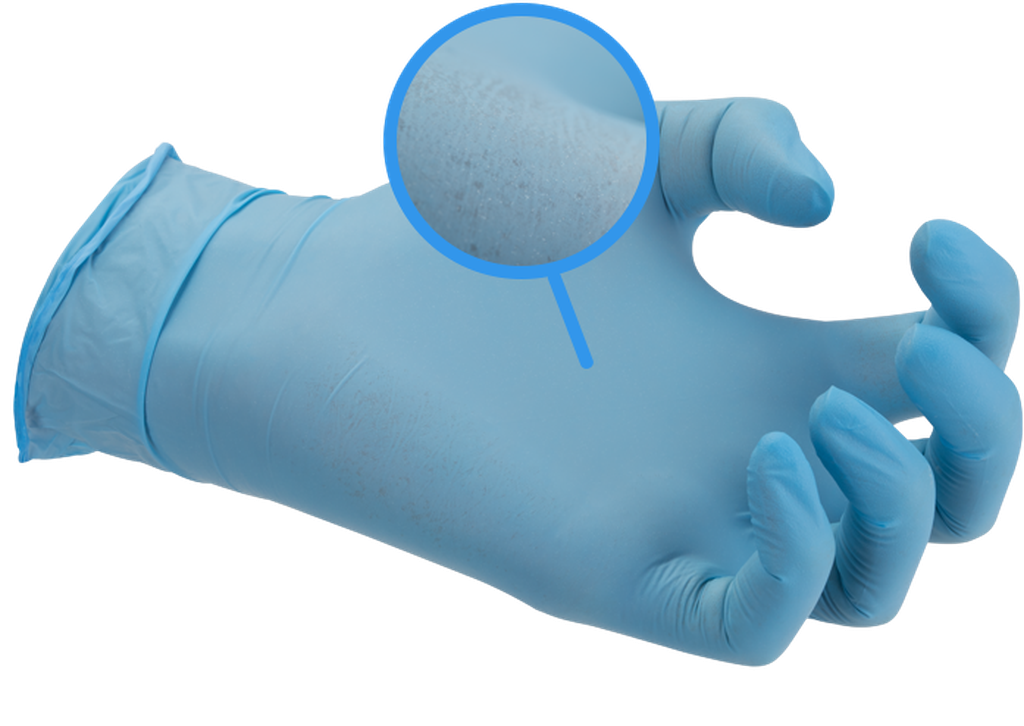 Material characteristics:
NITRILE
Nitrile, also known as acrylonitrile butadiene rubber (NBR), is a material composed of organic chemical compounds. The production process of this raw material was modified so that it can compete with natural rubber. Nitrile gloves are an ideal alternative to gloves made of natural rubber. Nitrile gloves:
• do not contain latex proteins – safe for persons sensitive to latex
• their content of chemical vulcanisation accelerators is limited to a minimum
• have good barrier properties for chemicals
Minimised content of chemical accelerators significantly reduces the risk of type IV allergy.