Your hands are your primary tool for working. We understand it! So to give you the best protection, we have created gloves that will give you maximum protection even in the most difficult conditions. Premium nitrile gloves offer firm grip and precision without restricting your movements. But that's not all! To meet our customers' requirements, the gogrip green gloves provide excellent resistance to viruses, bacteria and fungi, and their unique, cheerful colour will give you positive energy right away! 
Gloves for special purposes
Exceptionally elastic MERCATOR gogrip gloves are three times thicker than standard gloves available on the market. Made of durable nitrile, these gloves have a ground-breaking 3D diamond texture which makes your grip strong and secure without limiting your precision. With the original structure of MERCATOR gogrip, you can operate mobile devices without taking off gloves – so your hands are protected from the external factors at all times.   With their unique design, your hands will not sweat, so the risk of skin irritation is smaller. The gloves' perfectly-fit cuff ensures excellent working comfort, and the visible, vibrant, green colour stands out in any environment.
Recommendations
Who is MERCATOR gogrip green designed for? The answer is simple – for professionals!
Our gloves are subjected to detailed tests to ensure maximum safety, and they will protect your hands against fungi, bacteria and viruses. They also provide barrier against selected chemicals. Their high quality and the highest level of protection are confirmed by the fact that the gloves have been registered as category III, type B personal protective equipment.
That is why nitrile gloves are ideal for heavy industry or aviation, as well as in everyday plumbing work or at food processing plants. MERCATOR gogrip green will keep you safe when working in the garden or doing DIY – wherever your hands need protection from dirt and are exposed to chemicals.
Elasticity and high resistance to stretching allow you to reduce the number of used gloves and thus help you protect the environment.
Get PREMIUM class protection for your hands – choose MERCATOR gogrip!
MERCATOR gogrip green:

Ground-breaking 3D diamond texture

Allow you to operate mobile devices

3x thicker than standard gloves

High durability and quality of the gloves

Approved for contact with food

Resistance to viruses, bacteria and fungi

High resistance to selected chemicals

Exceptionally elastic gloves

Provide a stable and secure grip even in a difficult work environment

Help reduce the number of used gloves and decrease recycling costs

Flexible and highly resistant to stretching

Original inside – the 3D structure prevents sweating of hands during use

Occupational health and safety in hazardous environments

Protection in greasy and damp work environments

PREMIUM highest quality gloves
Especially recommended for:
The MERCATOR® gogrip green nitrile gloves ensure a sense of safety and are suitable for applications such as:
agriculture and horticulture,
automotive industry,
aviation,
chemical industry,
water supply systems,
plumbing,
cleaning sector,
paint shops,
difficult industrial conditions,
food processing,
processing of food products,
hunting and fisheries,
industry and production,
DIY.
Specification:
Product type
personal protective equipment
Protection type
III type B
Shape
universal (ambidextrous)
Household and protective - professional glove length
Suitable for sensitive skin
yes, non-latex gloves
Download:
Standards and certifications:
Compliance with current standard issues: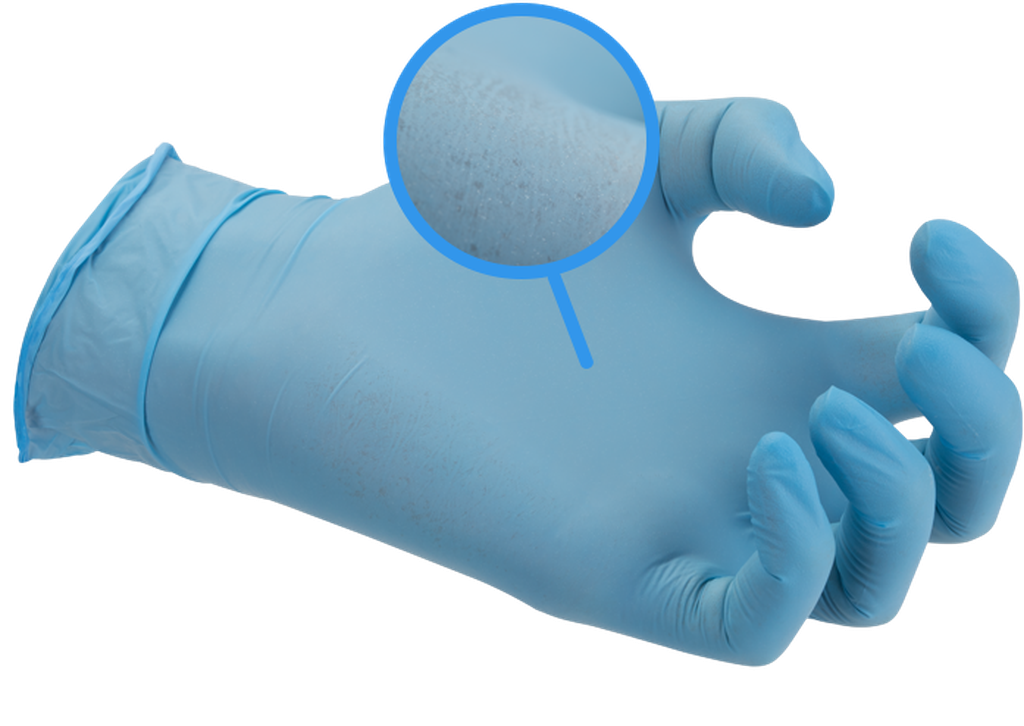 Material characteristics:
NITRILE
Nitrile, also known as acrylonitrile butadiene rubber (NBR), is a material composed of organic chemical compounds. The production process of this raw material was modified so that it can compete with natural rubber. Nitrile gloves are an ideal alternative to gloves made of natural rubber. Nitrile gloves:
• do not contain latex proteins – safe for persons sensitive to latex
• their content of chemical vulcanisation accelerators is limited to a minimum
• have good barrier properties for chemicals
Minimised content of chemical accelerators significantly reduces the risk of type IV allergy.