Automotive
Working in the automotive industry is a real challenge for hand safety — lubricants, chemicals and cleaning agents can cause unpleasant skin irritation that will lead to allergic reactions in the long run. Daily contact with different types of chemicals, such as petrol, lubricants and oils, is extremely dangerous to health. That is why, when wearing gloves, we prevent these substances from penetrating to our bodies through our hands, or settling on the skin. Disposable gloves are indispensable at work. They provide better sensitivity than heavy workshop gloves, which makes them ideal for precision work and secure grip.
Manufacture of cars and other vehicles
Garages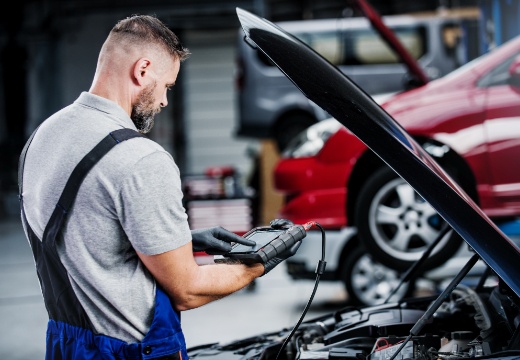 Manufacture of cars and other vehicles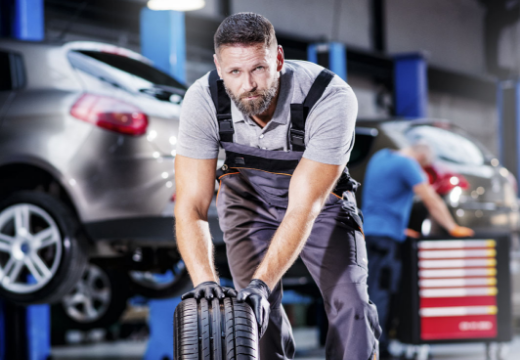 Garages
WHAT TO PAY ATTENTION TO?
When performing various tasks related to the automotive industry, secure grip is very important due oils and lubricants used, including in wet or greasy conditions. A surface covered with texture or rough latex minimises slipping of objects held. At the same time, gloves must provide a high touch sensitivity — many tasks that require exceptional precision are also performed in the automotive industry. That is why gloves are made of the strongest but at the same time relatively thin and flexible materials, such as nitrile — a skin-safe organic chemical compound.
Many gloves intended for the automotive industry are black to hide dirt, which enhances the aesthetic qualities of gloves during operation. This is particularly important if you are in direct contact with your customers.
IDEAL GLOVES FOR THE AUTOMOTIVE INDUSTRY SHOULD HAVE FIVE KEY FEATURES:
material and parameters in conformity with EU and ISO standards,

the highest resistance to mechanical damage,

easy donning and secure grip, even in greasy and wet conditions,

high user comfort and safety at the same time,

dark colour when working with significant soiling.
Raw material
In the medical industry, the raw material used to make the gloves is particularly important, as many procedures require instruments that can mechanically damage the material. There are several types of raw materials used to manufacture gloves:
Latex gloves:
The most popular medical gloves are made of natural rubber. This durable and flexible material provides excellent protection against blood-borne pathogens and some hazardous chemicals. According to many users, these gloves are more comfortable than those made of nitrile or vinyl. Currently, 90% of the global latex production is in Asia. They are manufactured in a variety of colours to suit the needs and likes of the staff, and the style of the place where they are used.

Latex gloves provide:


flexibility and softness,
strength and comfortable use,
excellent touch sensitivity, gloves feel like a "second skin".

The latex from which gloves are made is a natural raw material, but still carries the risk of type I allergy.

Nitrile gloves:
Nitrile, also known as acrylonitrile butadiene rubber (NBR), is a material made of organic chemical compounds. The production process of this raw material was modified so that it can compete with natural rubber. Nitrile gloves are an ideal alternative to gloves made of natural rubber.

Nitrile gloves:


do not contain latex proteins – they are safe for persons allergic to latex,
their content of chemical vulcanisation accelerators is limited to a minimum,
have good barrier properties for chemicals.

Minimised content of chemical accelerators significantly reduces the risk of type IV allergy.

Vinyl gloves:
These very durable medical gloves are made from plasticised polyvinyl chloride, the popular PVC. Vinyl provides good protection against chemicals, as well as against contamination with bodily fluids (including blood). Vinyl belongs to the group of PVC materials. Thanks to its properties, polyvinyl chloride (PVC) has various applications in different industries. Vinyl gloves are skin-friendly for users prone to type I and IV allergies


Plastic gloves:
Gloves made of polyethylene provide a basic protection during low-risk work. They are a temporary barrier rather than effective protection means. Most of these gloves are approved for contact with food (PZH certification).