Onwelo supports the automation of Mercator's export processes
W ramach inicjatywy @Onwelo wspomagającej organizacje walczące z COVID-19 nasza firma otrzymała wsparcie w zakresie int…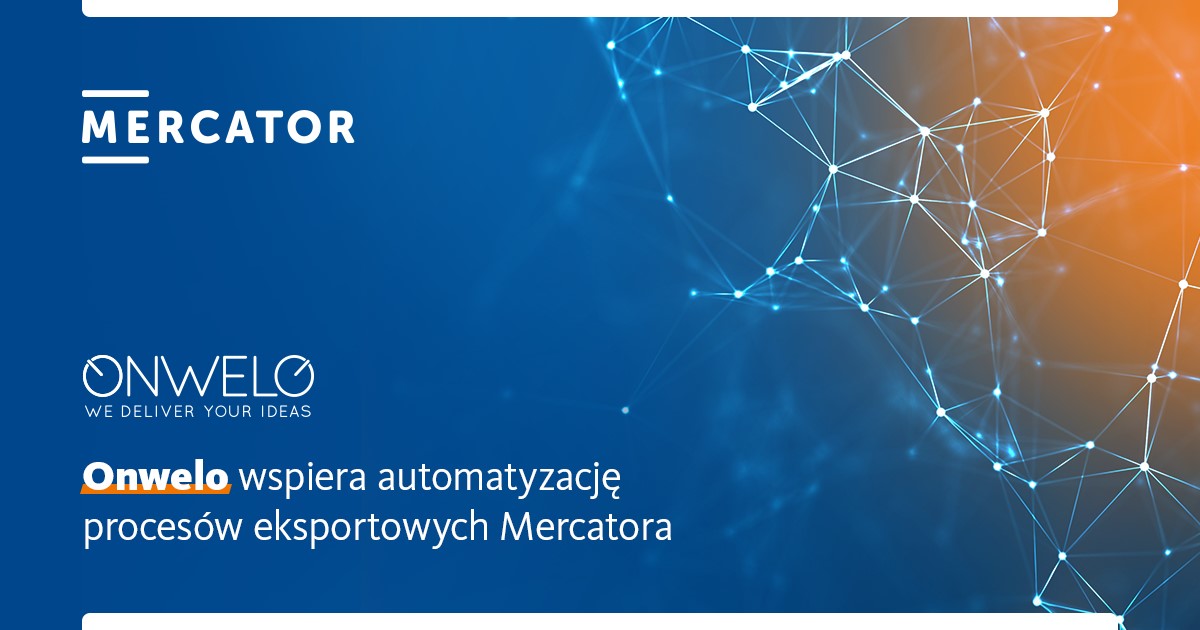 As part of the @Onwelo initiative to assist organisations fighting against COVID-19, our company has received support for intelligent process automation. Mercator has been selected from a number of applicants due to its activity related to health care and its strong commitment to combating the coronavirus pandemic.
Onwelo is a Polish technology company specialising in the development of innovative IT solutions for banking as well as for financial, insurance, FMCG, automotive and telecommunications sectors and for industry. Onwelo's main areas of activity include business intelligence, software development, maintenance and testing, IT infrastructure management, data & analytics, as well as intelligent automation solutions and delivery of cloud-based products and services. The company pays particular attention to matching the collaboration model and project management methodology to the needs of the customer, as well as to adaptation of Onwelo experts' competences to the specific needs of the task at hand.
The project was completed within 4 weeks. It included analysis of the selected process, preparation of documentation, preparation of the planned automation, testing, implementation, and special post-implementation support.
"This year has been particularly important and difficult for us. We had to make rapid changes to the functioning of our business. We appreciate the possibility of automating a significant part of operations in the Customer Service Department. It is a big change for us and it saves time. Automation also increases comfort at work", says Martyna Świeczkowska, Customer Service Specialist at Mercator Medical.
Onwelo currently employs more than 400 people and has branches in six cities of Poland (Warsaw, Krakow, Katowice, Kielce, Gdańsk and Lublin), as well as in New York. The company's mission is to translate the competences of Onwello's experts into technology development and business growth for international customers. The company is a strong player in the global IT outsourcing market. Onwelo proves that effective process automation is an important part of the organisational culture of companies and demonstrates their development and competitive position.
"We treated the cooperation with Onwelo as a proof of concept in the field of robotic process automation (RPA). The extensive technical and business expertise of Onwelo consultants in the field of management mechanisms, supervision, reporting and IT tools allowed for the creation of a perfectly tailored solution for intelligent automation. We are planning to automate further business processes", informs Tomasz Snoch, IT Director at Mercator Medical Group.
The launch of the UiPath robot, which automates the handling of export documentation, allows the Customer Service Department to save up to 3 hours of work per day. The tool verifies whether export shipments have been sent on a given day and, if so, it completes the documentation on disk, generates PDF files of invoices and inventory issue documents in the ERP system; it retrieves VAT-related activity confirmations from the VIES system and obtains copies of waybills, and also sends emails informing about receipt of the shipment from the warehouse.