Beauty
Your hands are the basic tool you use at work – whether you are a cosmetologist, tattoo artist or a hairdresser. This means that you should protect them from risks.
Hairdresser's studio
Beauty salon
Manicure & Pedicure
Podiatry practice
Tattoo studio
Principles of health and safety at work
We should remember that hands are a primary route of transmission of microorganisms. In order to avoid their spreading, it is important to follow proper hygiene principles and choose appropriate single-use gloves.
The most important principles of health and safety at work
One pair of gloves (minimum) = one procedure.

Use only single-use gloves and discard them after removal!

For hygienic reasons, use single-use gloves for each procedure.

Do not disinfect used gloves – it is not allowed!

For epidemiological reasons, always wear appropriate single-use gloves for all procedures involving interruption of the tissue continuity and for those performed in contact with mucous membranes.

Ensure comfort for yourself, the patient and other patients – pay attention to potential sources of infection.

Always disinfect hands before and after donning gloves; wash your hands if necessary.

During the procedure do not use the gloves in contact with objects of personal use (such as a mobile phone), which provide a hotbed for bacteria.

Choose the correct glove size and raw material for your hands.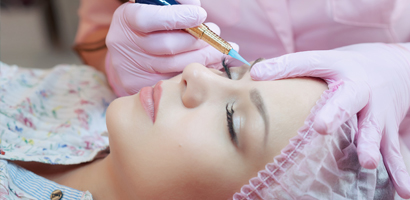 Material
The raw material of which gloves are made and the area in which you work is very important – since using appropriate gloves offers comfort and tactile sensitivity, and also provides an effective protective barrier and safety for you and your clients.
Hairdresser's studio
Beauty salon
Manicure & Pedicure
Podiatry practice
Tattoo studio
Single-use gloves for the BEAUTY sector
Explore single-use clothing and gloves for the beauty sector!
Activities
Basic assortment
Advanced assortment