Agri-food industry
Meat processing, fish processing, fruit and vegetable processing, milk processing, confectionery, beverage production, production of frozen foods.
Meat processing
Processing of fruit and vegetables
Fish processing
Processing of milk
Confectionery
Beverage production
Production of frozen food
Principles of health and safety at work
The food processing industry requires the highest level of hygiene. Contact with food imposes a great responsibility on employees. The epidemic situation of a large part of the society depends on the employees' hand hygiene. That is why it is important to remember that hands are the primary route of transmission of various microorganisms. The proper way to prevent infections is to observe appropriate standards of hygiene and to use the correct type of single-use gloves.
What to pay attention to?
Using gloves is one way to limit the transmission of microorganisms. Appropriate gloves not only protect their users, but also enhance comfort at work – in terms of their fit to the hands and the feeling of safety provided by a comfortable and approved product. The right work tool guarantees a job well done.
The Food Contact Material symbol

When handling food, make sure that gloves are labelled as Food Contact Material and are therefore food safe. It is also important that the gloves used in food processing be textured, ensuring a secure grip – even in wet, greasy or humid conditions.
The most important principles of health and safety at work
Use only single-use gloves and discard them after removal!

For hygienic reasons, wear single-use gloves for each activity.

Do not disinfect used gloves – it is not allowed!

Select appropriate glove material for the specific task – pay attention to the barrier properties of the material.

Always disinfect hands before and after putting on and taking off the gloves; wash your hands if necessary.

When working with gloves on, do not touch personal objects (such as a mobile phone), which provide a hotbed for bacteria.

During operations where mechanical damage of hands can occur, use gloves made of a thicker material.

If the glove becomes mechanically damaged during use, be sure to take it off and put on a new pair.

Choose the correct glove size and raw material for your hands.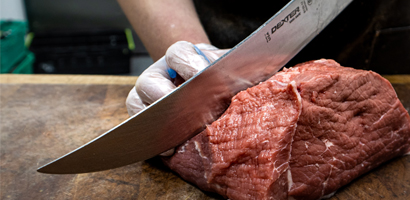 Raw material
The glove raw material is particularly important in the agri-food industry, as various tools are used at work which could damage the wall of the gloves. When using tools, the material should be sufficiently thick and resistant.
Meat processing
Processing of fruit and vegetables
Fish processing
Processing of milk
Confectionery
Beverage production
Production of frozen food
Medical segment products
Learn more about gloves and personal protective products for the agri-food industry!
Activities
Basic assortment
Advanced assortment