economic
nitrylex® basic blue
Nitrile medical powder-free gloves – the highest quality at the lowest price
Go to the store
nitrylex® basic - basic nitrile powder-free gloves. They have anti-static properties. nitrylex® basic are cost-effective gloves for those who value high quality at a low price.
nitrylex® basic blue:

They have anti-static properties.

Cost-effective gloves for those who value high quality at a low price.
Especially recommended for:
Work around the house.
Household work.
Specification:
Product type
medical and protective
Impermeability level (AQL)
≤1.5
Thickness
standard gloves
Suitable for sensitive skin
yes, non-latex gloves
Download:
Standards and certifications:
Conformity with standards: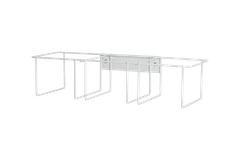 Safe Pack triple bracket
Several glove sizes in one place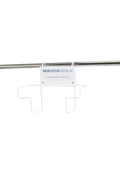 Single bracket for the Modura rail
Suitable for hanging on the Modura rail, including on medic…
Choose the correct size:
The size of the glove should fit perfectly on the hand. This directly affects safety and comfort at work.
To find your size, measure the width of your hand just above your thumb (widest part of your hand).
Material characteristics:
NITRILE
Nitrile, also known as acrylonitrile butadiene rubber (NBR), is a material composed of organic chemical compounds. The production process of this raw material was modified so that it can compete with natural rubber. Nitrile gloves are a perfect alternative to gloves made of a natural material; they are often called synthetic latex gloves.
Nitrile gloves:
do not contain latex proteins,
have a minimum content of rubber accelerators (substances that accelerate the process of temperature-induced raw material setting)
Minimised content of chemical accelerators significantly reduces the risk of type IV allergy.
Product feedback
If you would like to share information about our products, please fill out the form below.
Send your feedback
Explore our wide range of products
Select an industry
Select an application